The Books
Our young adult section is located at the back of the library along the south-side wall. We have fiction from a variety of genres such as historical fiction, sci-fi, fantasy, and contemporary. Our YA Iowa Teen Choice Award winners are located to the right of the YA section and are labeled as such. Our ITCA collection goes all the way back to 2014.
We also have a selection of YA classics located left of the general YA section. These books are a part of the library's permanent collection.
If you wish to reserve a book that is not in our collection, ask a librarian and we will Interlibrary loan the item for you free of charge.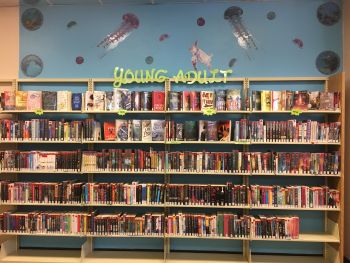 ---
STEM/STEAM Checkout Materials
We have a number of items that focus on Science, Technology, Engineering, Arts, and Mathematics. These are educational in nature, but also provide hours of entertainment. Check-out time if 30 days. So stop by and see the collection we have.
STEM/STEAM Options for Teens (ages 9 to 18):
IPTV Building Challenge Backpacks (Donated by The Max and Helen Guernsey Charitable Foundation)
A vareity of Snap Circuts (Light*, Sound*, Smart Circuts, etc)
Makey MakeyR *
Gear It!
Squishy Circuits
Craft-Struction Box sets
Circuit Maze
Gravity Maze
BLOXELSTM Build Your Own Video Games*
Strawbees.
CanaKitTM Raspberry Pi 3 Complete Starter Kit 32 GB EVO+ Edition*
A variety of LEGOTM sets
*Must be 18 and your account must be in "good standing" to check-out
---
Summer Reading Program 2023
Tweens and Teens (Grades 6th--12th)
Tweens and teens going into 6th-12th grades are welcome to join us at the library this summer.

Although all events for tweens and teens are free this year, some circumstances require registration due to limited supplies. Registration for these events will be open for two weeks prior to the event:

Call the Aplington Library at 319-347-2432 to register for Teen Art Camp.
Call the Parkersburg Library at 319-346-2442 to register for Put Put Mini Golf.