Adult Book Group
Adult Book Group typically meets on the
4th Tuesday of the month at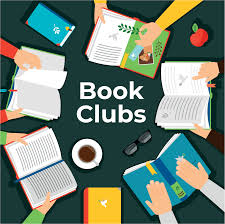 1:30 pm
in the community center. Call the library or check out our Facebook page for the exact date and to find out the book being reviewed. All are welcome to participate.
Up All Night Book Group
Aplington and Parkersburg Public Libraries are joining together to start an evening book group: Up All Night.
This group meets the last Wednesday of each month at 7:00 p.m. at Kothe Public Library in Parkersburg. This group will focus mostly on mysteries, thrillers, and suspense books, but will be open to other genres.

Want to start another book group for a specific age or genre?
Contact Alexis Karsjens, the library director, at 319-347-2432 or inquire at the circulation desk.
Adult Book Group Books from previous years:
The Book Woman of Troublesome Creek by Kim Michele Richardson
Population: 485 by Michael Perry
Ask Again Yes by Mary Beth Keane
Peace Like a River by Leif Enger
Winter Garden by Kristin Hannah
The Girls by Lori Lansens
Three Weeks to Say Goodbye by C.J. Box
Before We Were Yours by Lisa Wingate
Three Little Things by Patti Stockdale
Blue Heaven by C.J. Box
If The Creek Don't Rise by Leah Weiss
My Name is Lucy Barton by Elizabeth Strout
Bottomland by Michelle Hoover
Sworn to Silence by Linda Castillo
The Christmas Cookie Club by Anne Pearlman
Sarah's Key by Tatiana de Rosnay
The Road by Cormic McCarthy