Homebound Book Delivery Service
The Aplington Library staff can deliver materials to home if you are a homebound individual due to mobility needs, recent health procedures that prevent you from leaving your home, or those with disabilities within Aplington's city limits. You will receive a call when your materials are ready.
This service is by request.
---
Adult Book Group
Adult Book Group typically meets on the 4th Tuesday of the month at 1:30 PM in the Aplington Community Center.
Adult Book Group does not meet from June to August during the year. Call the library or check out our Facebook page for the exact date and to find out the book being reviewed. All are welcome to participate.
Up All Night Book Group
Aplington and Parkersburg Public Libraries are joining to start an evening book group: Up All Night.
This group generally meets on the last Wednesday of the month at 7:00 p.m. at Kothe Public Library in Parkersburg. This group will focus primarily on mysteries, thrillers, and suspense books.

Want to start another book group for a specific age or genre?
Contact the library director, at 319-347-2432 or inquire at the circulation desk.
Memory Care Kits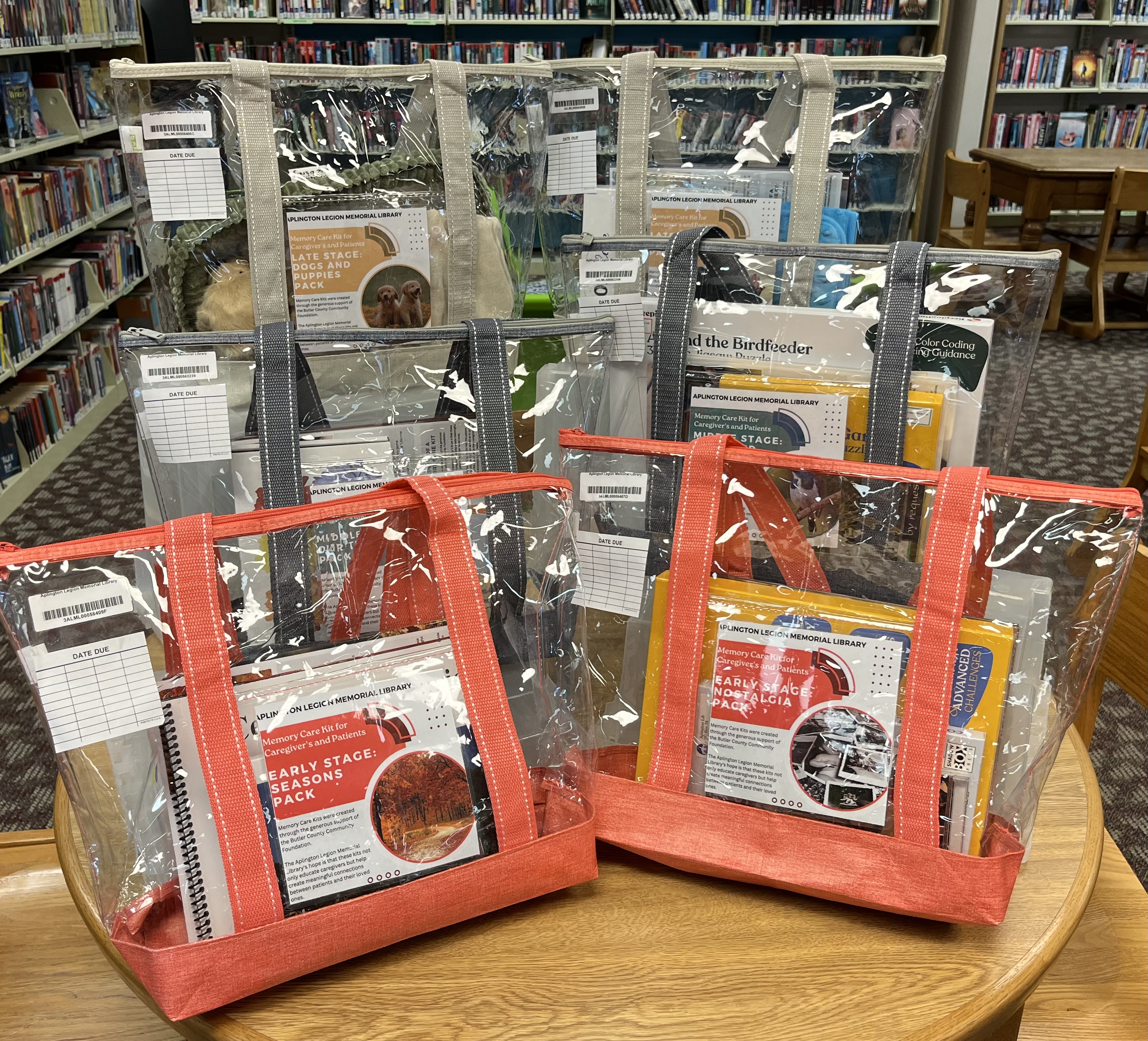 A new resource at the library!
Introducing "Memory Care Kits for Caregivers and Patients"! This project was created through generous support via a Butler County Community Foundation grant.
The Aplington Legion Memorial Library's hope is that these kits not only educate caregivers about Alzheimer's and other related dementias but help create meaningful connections between patients and their loved ones.
Fore more information, check out "Memory Care Kits A New Resource!".
---
Stepping Up
Stepping Up is a workout class focused on balance, strength training and endurance for older adults. Stepping Up is every Tuesday and Thursday morning from 9:00 a.m. till 10:00 a.m. in the Aplington Community Center.
Stepping Up does not meet between June through August.
---