Stem/Steam Checkout Materials
We have a number of items that focus on Science, Technology, Engineering, Arts, and Mathematics. These are educational in nature, but also provide hours of entertainment. Check-out time if 30 days. So stop by and see the collection we have. Shown below is part of our collection.
STEM/STEAM Options for Toddlers and Younger Children (ages. 2-8):
Imagination Magnets
Imagination Patters Deluxe
Educational Insights Design & Drill Activity Center
Tower Cubes
Toddler STEM Backpacks (five different backpacts focused on tools, shapes, colors, etc)
STEM/STEAM Options for Older Children and Teens (ages 9 to 15):
IPTV Building Challenge Backpacks (Donated by The Max and Helen Guernsey Charitable Foundation)
A vareity of Snap Circuts (Light*, Sound*, Smart Circuts, etc)
Makey MakeyR *
Gear It!
Squishy Circuits
Craft-Struction Box sets
Circuit Maze
Gravity Maze
BLOXELSTM Build Your Own Video Games*
Strawbees.
CanaKitTM Raspberry Pi 3 Complete Starter Kit 32 GB EVO+ Edition*
A variety of LEGOTM sets
*Must be 18 and in good standing to check-out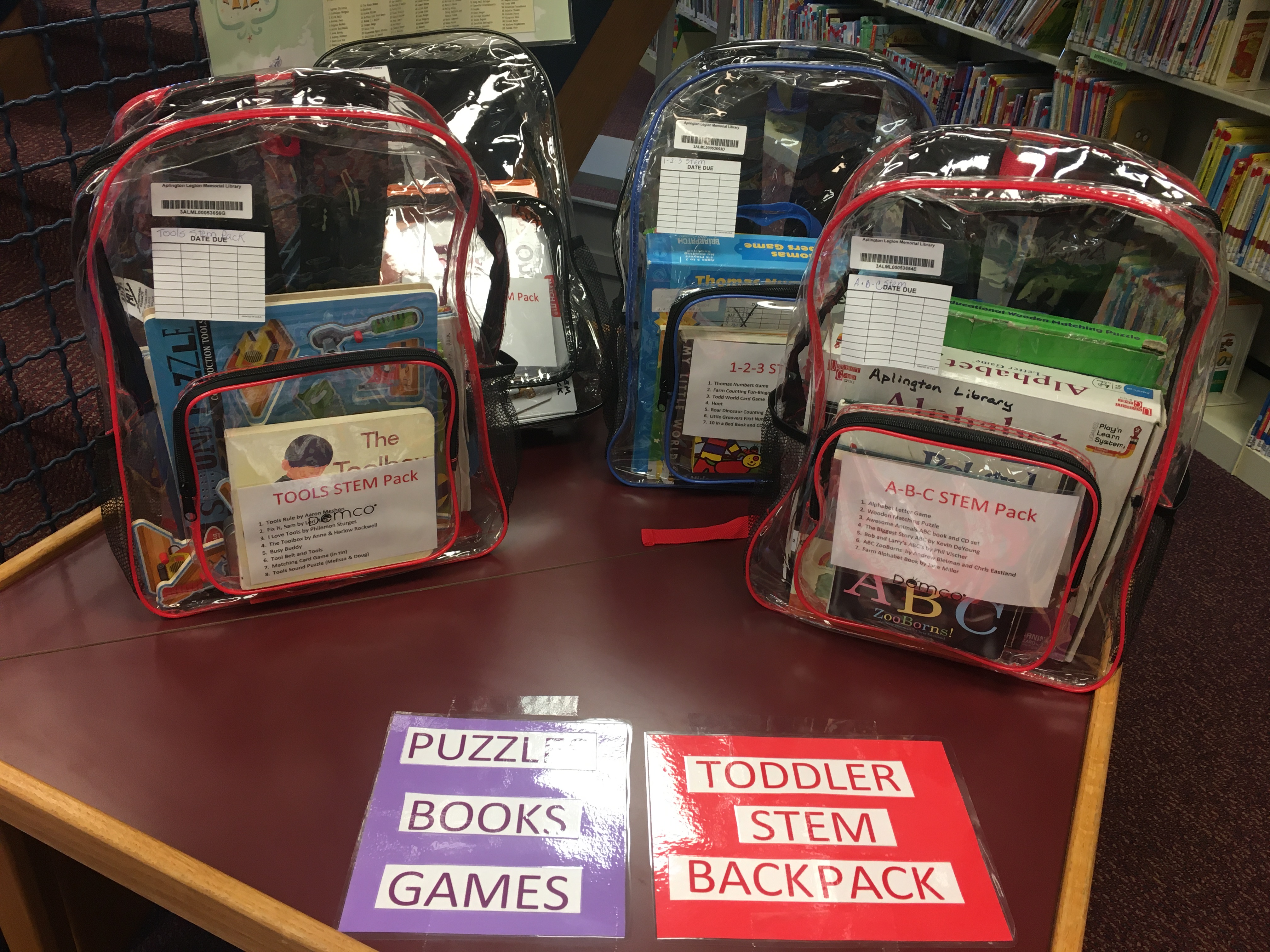 Toddler STEM Backpacks
(1 month check-out)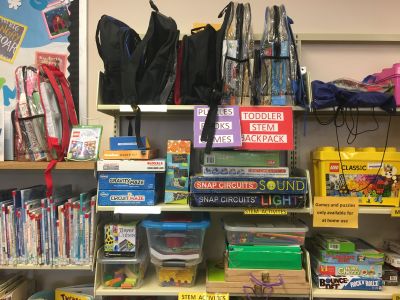 A selection of STEM options to check-out. NOTE: with some items, you must be 18 years or older and must be in "good standing" to check-out.
STEM Backpacks for grades Kindergarten--3rd grade
The Iowa STEM Advisory Council of North Central Iowa delivered five backpacks of STEM goodies to us just recently. Each kit includes children's books, activity guides, and games to keep children learning science, technology, engineering, and math this summer.
The STEM packs themes are "Fabulous Five Senses" with a microscope, "Perfect Patterns" with pattern blocks, "Humpty Dumpty" with DUPLO blocks, "Fabulous Fractions" with a fun pizza game, and "Bee and Me" with a programmable Bee-Bot robot.
Because the packs are new, each pack is available for a two-week checkout.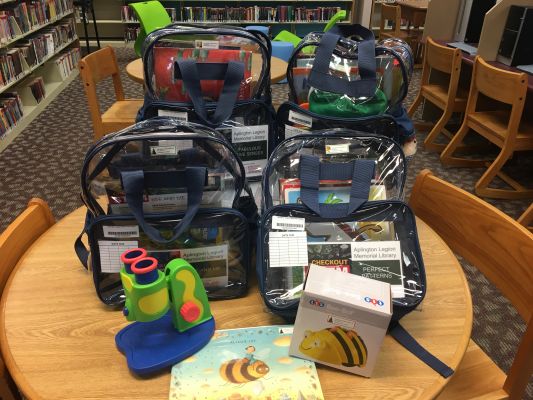 STEM Cart Items
The library received a generous donation of a STEM cart filled with children's science, technology, engineering, and math games from the Deb and Jeff Hansen Foundation and Iowa Select Farms. The library was one of 50 rural libraries nominated to receive a cart this year. We are grateful to those who nominated our library. All STEM games on the cart are available for check-out and use in the library.
Games and Activities housed on the STEM cart: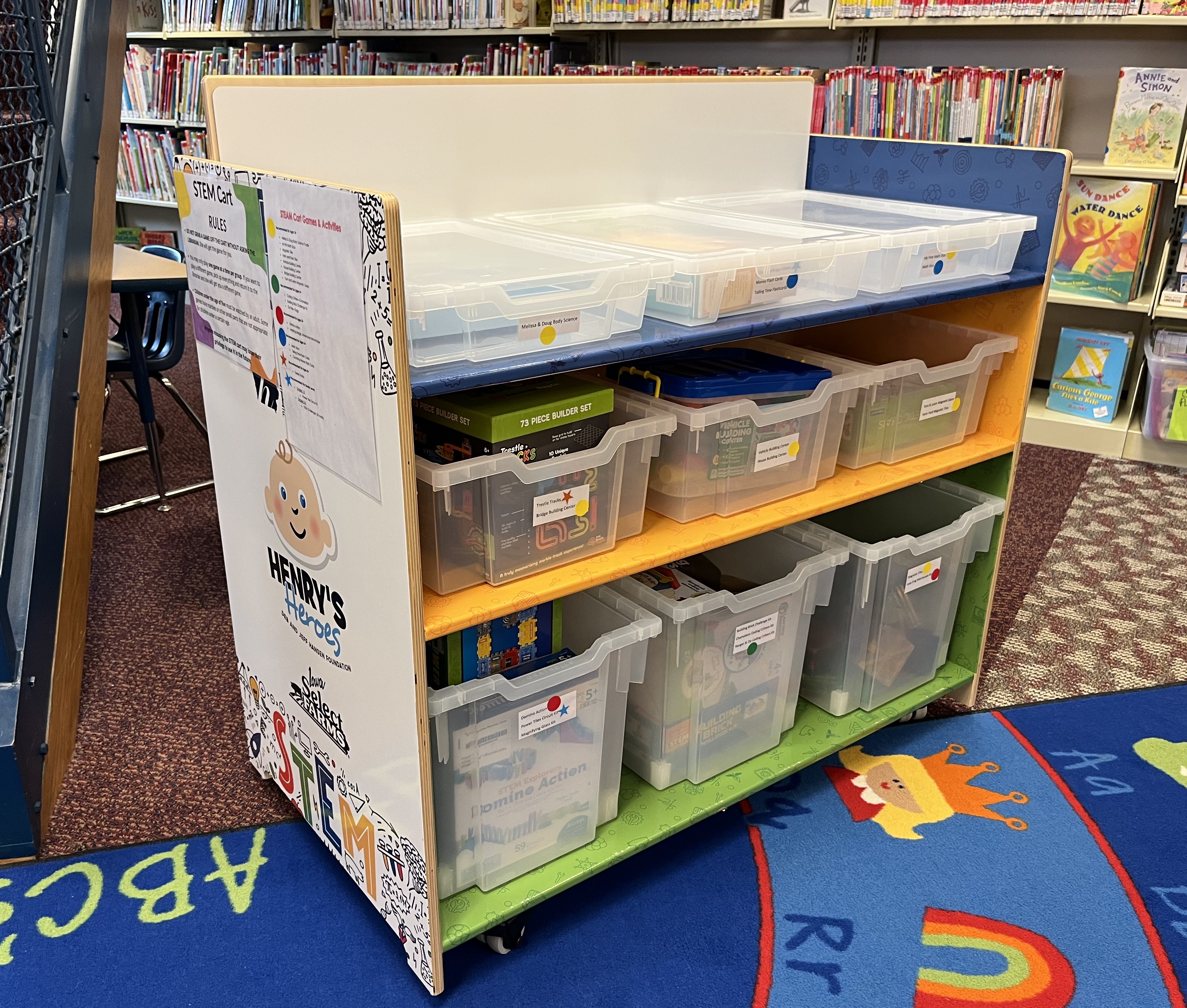 Recommended for Ages 3+
Melissa & Doug Body Science Puzzle
My First Math Dice
Magnetic Tiles
Farm Yard Barn Tiles
Vehicle Building Center
House Building Center
Bridge Building Center
Turn and Learn Magnetic Gears
Recommended for Ages 4+
Coding Critters--Chameleon
Building Brick Challenge Kit
Go Pets--Dogs
Recommended for Ages 5+
Domino Action
Leapfrog Magic Adventures Microscope
Recommended for Ages 6+
Math Dice
Telling Time Flash Cards
Counting Money Flash Cards
Recommended for Age 8+
Recommended Per Grade Level:
Grades 1-5: Power Tiles Circuit Kit
Grades 2-5: STEM Challenges (30 cards)